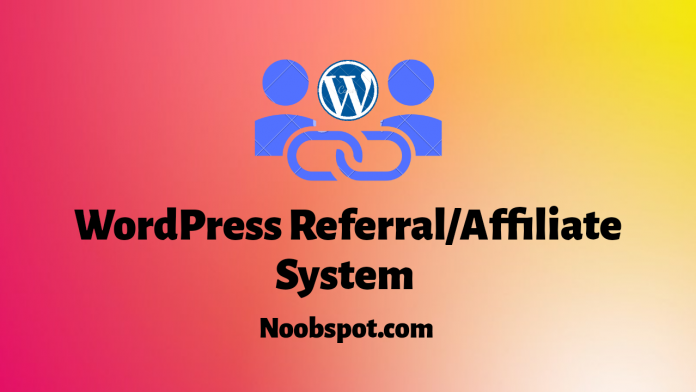 Nowadays, The Affiliate/Referral Program Is An Alternative Way Of Making Passive Income From after Adsense on Online Blog, But Before Starting An Affiliate Program In A Blog/site, A Developer Needs Lots Of Customizations, And Referral System Are One Of Them.
Hi, I'm Mani Badhel, An Author On Noobspot.com, And Today I'll Talk About Best Referral System For WordPress Blog. Know About Mani.
What is a Referral Affiliate?
In Short, If You Have A Professional Blog, Which Creates 1000+ Visitors Per Day, And You Want To Earn More From This Organic Traffic, Then Affiliate Marketing Is The Best For You. There Are Many Popular Affilate Programs Like Amazon Affiliates, Flipkart Affiliates, Hosting Affiliates etcetera.
Actually, The Referral System In WordPress Works With Many Things, It's Like A Url Shortener Of Your Site, If You Want To Short Your Lengthy Permalinks In Short Urls, And Also Hide Your Referral Links, Also You Can Add Nofollow Tag Rather Than Giving Free Backlink. There Referral System Works.
---
Take An Example, The Given Url Is The Link Of My Blog Post, Which Actually Very Large In Words:-

And Then I Have Used My Referral System And Convert It Into A Small Url:-
The Main Benefit Of Making Such Url Makes Your Site Professional And Prevent Your Site From Giving Unusual Backlinks To Another Site.
How does it work?
As I Have Shown In The Last Paragraph, The Referral System Short/hide Urls With Site Url Shortener Plugin And Make Them Clear To Read.
Moreover, If You Are Reviewing A Group Of Some Tools, Gadgets Etcetera, And The Given Links Are Redirected To Another Site, There You Can Prevent Your Precious Backlink By Using This Referral Url, Which Firstly Redirects To Your Domain And Then Redirect to External Link Through A Nofollow Tag.
Not Only I, Many Of Popular Blogger Use Referral System In WordPress For Redirection Of External Links Like The Shoutmeloud.com Also Use The Referral System To Promote Their Affilate Links.
How to Use Plugin?
Unfortunately, This Referral Program Is Only Available For WordPress System, If You Are Using A Blogger, Then You Have To Use A Third-party Url Shortener Like Bit.ly, Cutt.ly, Etc.
Suppose that you are using the affilate program of a hosting company, the hosting affilate provider, will provide you a custom affiliate link, that works when some click over there orders the service, so at that time you can use your own URL shortening system and hide the main URL with your one.
At WordPress Store, There Are A Number Of Referral System Plugins In WordPress, But The Plugin That I Recommend Is Pretty Links – Best WordPress Link Tracking Plugin.
The Reason For Only Using This Plugin Is The Interface Of Working When You Will Install This Plugin, WordPress Makes A Separate Option In The WordPress Menu To Access Pretty Links.
Separate Option in WordPress Menu.
Bulk Setting Edit.
Permalink Fix like refer/go/out.
The option of Tags, categories, keywords, clicks, dates.
Redirection like temporary, permanent and many more.
Google Analytics Tracking.
Nofollow referral tag(Prevent Backlinking).
Note: Some Of Feature Will Does Not Work In The Free Version, Then You Have To Purchase Premium One, But Don't Worry, The Version Of The Pretty Plugin That I'm Using In My Blog Is Under Gpl, So If You Want That One Direct Contact With Me.
Thanks For Visiting, ManiBadhel Blogs